The world is a book and those that do not travel read only one page.
– Saint Augustine of Hippo
Up North Adventure Vans
Included in the Kitchenette
Our camper van kitchenettes include a 2-burner stove-top (propane gas), mini refrigerator, and sink. The two moveable dining tables allow for extra counter space. Up North Adventure Vans are stocked with USA made kitchen tools to make meal prep easy and enjoyable – quality matters!
2 – Serving Bowls 1 Qt | Corelle (USA)
1 – Platter | Corelle (USA)
1 – Pitcher 2 Qt | Takeya (USA)
1 – Salt & Pepper Mini Shakers (filled) | Tupperware
1 – Mixing/Measuring Bowl 10 cup | Nordicware (USA)
1 – Mixing/Measuring Bowl 3 cup | Nordicware (USA)
1 – Measuring Spoon Set | Nordicware (USA)
All-in-One Juicer/Grater/Zester/ Egg Separator | Tupperware (USA)
1 – Ice Cream Scoop | (USA)
1 – Bottle Opener
1 – Can Opener | Liberty Tabletop (USA)
Petite Chef Knife | Cutco (USA)
Trimmer Knife | Cutco (USA)
Steak Knives (4) | Cutco (USA)
1 Qt Pan/Lid | Heritage Steel (USA)
3 Qt Pan/Lid | Heritage Steel (USA)
8″ HexClad Skillet
10″ HexClad Skillet
2 – Hot Pads | (handmade in the USA)
2 – Swedish Dishcloths
1 – Dish Towel
2 – Kitchen Hand Towels
4 – Cloth Napkins
1 – Dish Scrubby (Handmade in the USA)
1 – Dish Brush | Libman (USA)
1 – Pan Scraper | Pampered Chef (USA)
1 – Biodegradeable Liquid Dish Soap | Melaleuca
1 – Amish Flyswatter | Lehmans (USA)
1 – Hand Broom/Dustpan | Libman (USA)
1 – Disinfectant Spray | Melaleuca Sol-U-Guard
Smoke Detectors
LP and CO Detectors
1 – Fire Extinguisher
To travel is to live.
– Hans Christian Anderson
Up North Adventure Vans
Included in the Bathroom
Our Up North Adventure Van has an interior shower so you can keep clean no matter what the weather and includes a grab bar/towel bar for safety. The shower has an on-demand hot water system with its own dedicated water tank with the largest capacity available to allow for off-grid camping. Plus, a USA made WaterSense shower head is installed to help conserve water without compromising performance.
2 – Bath Sheet Towels | Redland Cotton (USA)
2 – Scrubbies
Biodegradeable Handmade All-in-One Soap/Shampoo | Haigh's Honey Farm
100% Recycled Fiber 2-Ply Toilet Paper (USA)
Dry-Flush Toilet | Laveo (USA)
Live life with no excuses, travel with no regret.
– Oscar Wilde
Up North Adventure Vans
Included in the Bedroom
All bedding in Up North Adventure Vans is made in the USA – no imports or synthetics. Cotton and wool are breathable – perfect for "hot sleepers". Even our mattress is natural breathable latex (vs synthetic memory foam) and a full-length queen (not RV short) to ensure your comfort.
100% Percale Cotton Sheets/Pillowcases/Duvet Cover | Redland Cotton (USA)
1 Flat Sheet | Redland Cotton (USA) – a light layer for hot nights
Duvet Insert | St. Peter Woolen Mills (USA)
4 – 100% Natural Latex Filled Pillows | Bean (USA) – 2 plump filled, 2 light filled
100% Natural Latex Mattress | Latex Mattress Factory (USA)
100% Wool Blanket | Pendleton (USA) – an extra layer for chilly nights
Bedside Reading Lamps (2)
Bedside Bookshelves – with a few books or bring your own
Bug Wall Rear Door | The BugWall (USA)
Not all those who wander are lost.
– J.R.R. Tolkien
Up North Adventure Vans
Included in the Lounge
Your lounge area at the front of the camper van consists of driver/passenger swivel seats, a bench seat and two moveable individual dining tables. There is an additional drop-down table on the outside of the van for outdoor dining (weather permitting). Two compact outdoor camp chairs are included in each camper van rental – perfect for star-gazing and campfires.
Life is either a daring adventure or nothing at all.
– Hellen Keller
Up North Adventure Vans
Things to Note…
Up North Adventure Vans are equipped with a solar panel and battery bank to enable off-grid camping. As such, our camper vans do not include a TV, microwave or oven because of their significant power draw and space constraints. The camper van has air conditioning when driving and when parked/camping, there are two roof fans (front and back) for ventilation. The camper van is fully insulated and includes insulated window coverings to keep the camper van both cool in the summer and warm in the winter.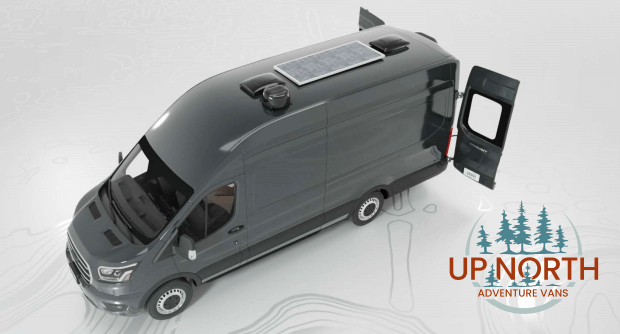 Our camper vans were thoughtfully designed to give you adequate storage for longer trips. Upper cabinets are on both sides of the bed and there is a bulkhead shelf above the driver/passenger seats. The bench seat contains storage and there are hooks on the wall for jackets. The "garage" space under the bed is accessible from both outside and inside of the van.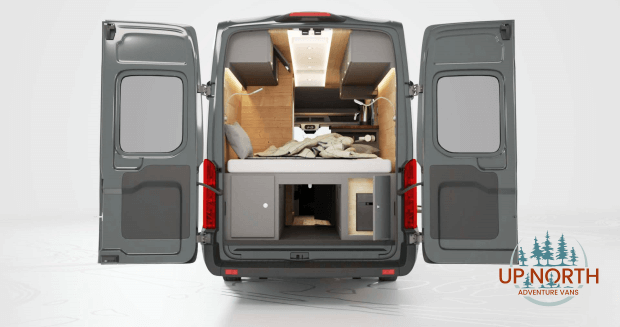 To travel is to change the clothes of our soul.
– Mario Quintana
Hints for Packing…
Pack less – you can go to a laundromat.
Roll your clothes – it uses less space and they are more accessible.
Pack in a soft sided bag – not a hard sided suitcase.
Pack warm clothes even in the summer – night temps are cooler.
Don't buy all your food at once – pick up groceries as you need them.